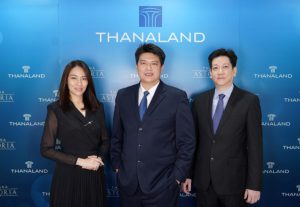 (Original article published on Discovery Reports https://discoveryreports.com/thanaland-fuses-global-and-local-real-estate-trends-to-offer-elegant-high-quality-projects/)
For real estate developer Thanaland, success is not only measured by the sheer amount of properties it owns or the number of sold-out units at pre-selling stages, but also measured by the trust and pride of ownership its customers feel about being part of the Thanaland family.
Since day one of Thanaland's establishment in 1972, founder Panit Suwanichkul placed great importance on building quality homes, as if he were building a home for his family.
"Our founder believes that trust and quality are two important attributes that go hand-in-hand. In offering a long-lasting high-value product, we earn the trust of our customers. Thanaland sees a contract not just as a business deal but as the start of a long relationship where the company and the customer grow together," says managing director Kovit Suwanichkul.
Thanaland has been changing the real estate landscape in Thailand through its in-house team of engineering, architecture and design experts – most of whom graduated from top universities such as New York University and Harvard University.
This panel of experts adapts global standards to fit local requirements in creating beautiful and functional buildings. It also works with the academia, conducting lectures and offering hands-on experiential learning to next-generation designers, architects and engineers.
"This is one thing we are passionate about because we are giving back to society. We want to inspire young people," says design and development director Angkana Uthaisangchai.
Paving the way for the future of real estate, Thanaland employs best practices and uses the best materials to offer higher product quality at competitive prices – effectively giving customers more value for their investment.
Thanaland showcases its design flair with New York art-deco inspiration in 23-storey condominium Thana Astoria, its latest development that has won multiple awards including FIABCI Prix D'Excellence for best residential condominium. Providing more than living spaces, the company designed Thana Astoria to foster community spirit. As much as it pays meticulous attention to details such as fittings and fixtures, Thanaland also goes the extra mile, creating facilities including theatres, yoga lawns, coworking spaces, reading lounges, skyline pavilions and several gardens.
Thana Astra, a new development launching this year, is ultra-modern with a neat and clean-cut look. The building façade folds out like rays from a star and with design details inspiring the feeling of atmospheric space. Recognising that condominium residents usually have insufficient storage problems, the company designed Thana Astra to have extra spacious closets and additional storage lockers for residents' units. It will also offer generous community lifestyle spaces, which have always been Thanaland's signature.
While Thanaland steadily attracts new clientele, it continues to receive the patronage of repeat customers.
"We have a strong quality model and work really hard to make each project the best. Customers trust that after purchasing a unit, Thanaland continues to take care of them. We maintain looking after customers in all of our projects," says financial director Pavit Uthaisangchai.
During the major flooding in Thailand in 2011, Thanaland projects were all flood-free since they are all built a metre off the ground. Looking after its residents, Thanaland also provided free transportation to ensure they could go to their workplaces. Likewise, amid the Covid-19 pandemic, Thanaland distributed face shields to all residents of all its projects and their neighbours, and donated personal protective equipment to hospitals. Furthermore, Thanaland has established a mindfulness and meditation centre that provides courses for residents to create a caring society.
Envisioning robust company growth, Thanaland is opening doors to partnerships with companies looking to invest in a trusted brand. It aims to continue building quality homes and communities to improve lives.
"I define myself as a developer and an engineer committed to creating quality projects, driven by my love for elegant buildings and by the people who live there happily," Kovit says.
www.thanaland.co.th